OpenMenu
Das etwas bessere »Öffnen mit«-Menü
The somewhat better »Open with« menu
[Beschreibung] [Hintergrund] [Download] [Verwendung] [Updates]
[Description] [Background] [Download] [Usage] [Updates]
Kurzbeschreibung
Short Description
Dieses Programm zeigt beim Öffnen einer Datei im Windows-Explorer eine Auswahl von Anwendungen an, mit denen die Datei geöffnet werden soll. Es ist gedacht als bequemere Alternative zum "Öffnen mit"-Menü des Windows-Explorers.
When a file is opened in Windows Explorer, this program displays a selection of applications with which the file should be opened. It is intended as a more convenient alternative to the "Open with" menu in Windows Explorer.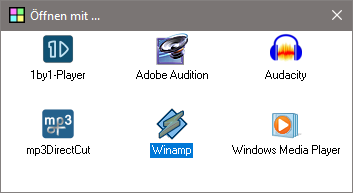 Beispiel-Screenshot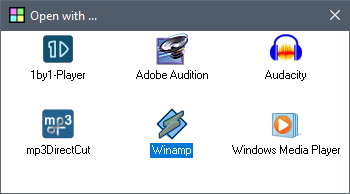 Example screenshot
Hintergrund
Background
Beim Doppelklick auf eine Datei im Windows-Explorer wird diese normalerweise mit einer Standard-Anwendung geöffnet, die diesem Dateityp zugeordnet ist. MP3-Dateien z.B. werden standardmäßig mit dem Mediaplayer "Winamp" geöffnet, wenn man dies so konfiguriert hat. Möchte man nun Dateien bestimmten Typs abwechselnd mit verschiedenen Programmen öffnen, geht das im Windows-Explorer mehr oder weniger umständlich über das Kontextmenü "Öffnen mit" oder "Senden an", also Rechtsklick auf die Datei, runter in dem mitunter sehr großen Menü bis "Öffnen mit" oder "Senden an", dann entweder nach links oder nach rechts rüber in das sich öffnende Submenü, dort entweder rauf oder runter bis zum gewünschten Programm, und schließlich ein Linksklick auf den Programmnamen. Wenn man das häufig hintereinander machen muss, kann dies ziemlich lästig werden – mich hat es jedenfalls irgendwann genug genervt, um mir mit einem kleinen Tool Abhilfe zu schaffen.
When you double-click a file in Windows Explorer, it is usually opened with a default application associated with that file type. MP3 files, for example, are opened by default with the "Winamp" media player if you have configured it that way. If you want to open files of a certain type alternately with different programs, this is more or less laborious in Windows Explorer via the context menu "Open with" or "Send to": Right-click on the file, go down in the sometimes very large menu to "Open with" or "Send to", then either left or right over to the submenu that opens, there either up or down to the desired program, and finally left-click on the program name. If you have to do this frequently, it can be quite annoying - at some point I was annoyed enough to create a little tool to help me out.
Herausgekommen ist dabei ein kleines Progrämmchen, das die Auswahl alternativer Anwendungen zum Öffnen einer Datei etwas schneller und komfortabler gestalten sollte. Doppelklickt man nun auf eine Datei (oder betätigt bei ausgewählter Datei die Enter-Taste), wird diese nicht sofort geöffnet, sondern es öffnet sich ein Fenster, das die Icons einiger zugeordneter Anwendungen anzeigt (siehe Screenshot oben). Durch einen einfachen Klick auf das entsprechende Icon wird die Datei dann ohne Umschweife mit dieser Anwendung geöffnet. Es kann auch eine Anwendung als "Standard" festgelegt werden, die dann beim Öffnen des Menüfensters vorausgewählt wird – hier genügt dann eine Betätigung der Enter-Taste, um das Programm zu starten und die Datei zu laden.
The result is a small program that should make the selection of alternative applications for opening a file a bit faster and more convenient. If you double-click on a file (or press the Enter key while the file is selected), the file is not opened immediately, but a window opens that shows the icons of some assigned applications (see screenshot above). By simply clicking on the corresponding icon, the file will then be opened with this application without further ado. An application can also be set as "default", which is then preselected when the menu window is opened - in this case, pressing the Enter key is sufficient to start the program and load the file.
Getestet und verwendet wurde das Programm von mir bisher unter Windows 10.
I tested and used the program under Windows 10.
Download
Das Programm "OpenMenu" biete ich hier zum kostenlosen Download an:
I offer the program "OpenMenu" here for free download:
Die 1. ZIP-Datei (OpenMenu.zip) enthält das ausführbare Programm "OpenMenu.exe", das in einen beliebigen Ordner entpackt werden kann, z.B. "C:\bin".
The 1st ZIP file (OpenMenu.zip) contains the executable program "OpenMenu.exe", which can be extracted to any folder, eg "C: \ bin".
Die 2. ZIP-Datei (OpenMenu_src.zip) enthält den dazugehörigen Sourcecode für Visual Studio 2019 und ist vielleicht für Entwickler interessant.
The 2nd ZIP file (OpenMenu_src.zip) contains the associated source code for Visual Studio 2019 and may be of interest to developers.
Disclaimer: Download und Benutzung erfolgen auf eigenes Risiko!
Disclaimer: Download and use at your own risk!
Verwendung
Usage
Wird das Programm ohne Angabe von Kommandozeilenparametern aufgerufen, dann wird ein kurzer Hilfetext mit Hinweisen zur Verwendung angezeigt. Um es in den Windows-Explorer einzubinden, muss es einem Dateityp (z.B. ".mp3") zugeordnet werden. Hierzu macht man einen Rechtsklick auf eine zu öffnende Datei (hier z.B. "Flight Over The Canyon.mp3") und wählt aus dem Explorer-Kontextmenü den Punkt "Eigenschaften", woraufhin ein Fenster ähnlich dem folgendem erscheint:
If the program is invoked without specifying command line parameters, then a short help text is displayed with instructions on how to use it. In order to integrate it into Windows Explorer, it must be assigned to a file type (eg ".mp3"). To do this, right-click on a file to be opened (here, for example, "Flight Over The Canyon.mp3") and select "Properties" from the Explorer context menu, whereupon a window similar to the following one appears: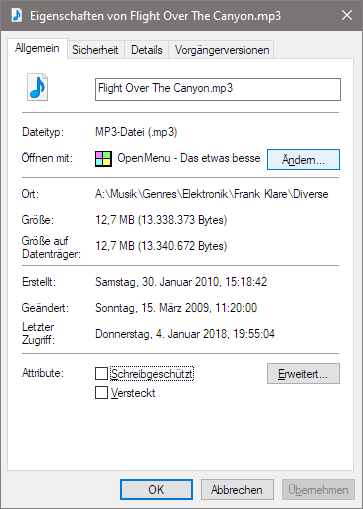 Auf den Button "Ändern" rechts neben "Öffnen mit:" klicken.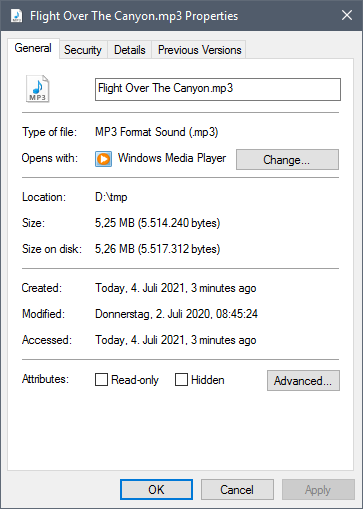 Click on the "Change" button to the right of "Opens with:"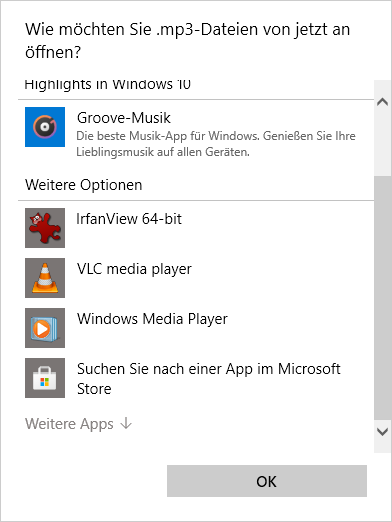 Ganz nach unten scrollen und "Weitere Apps" anklicken.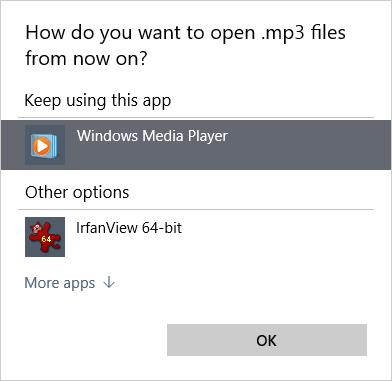 Scroll all the way down and click "More apps".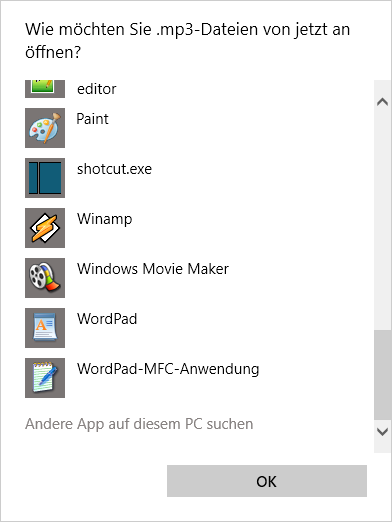 Nochmal ganz nach unten scrollen und "Andere App auf diesem PC suchen" anklicken.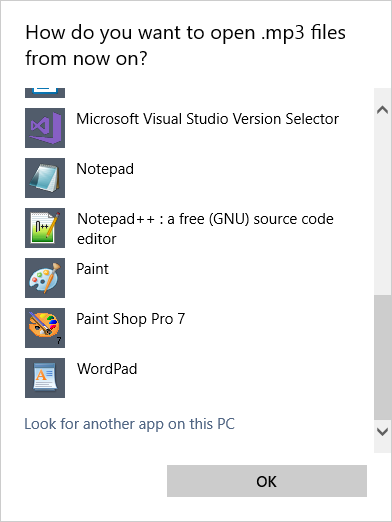 Scroll all the way down again and click "Look for another app on this PC".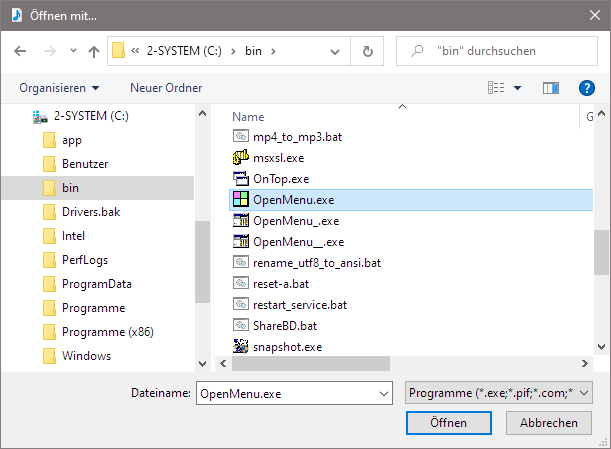 Jetzt die Programmdatei "OpenMenu.exe" suchen und auf den Button "Öffnen" klicken.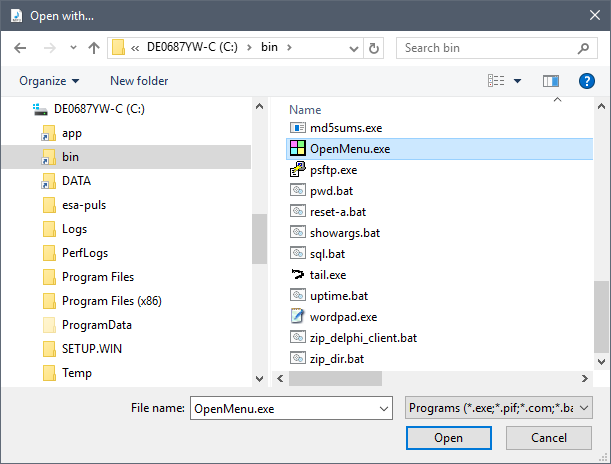 Now find the program file "OpenMenu.exe" and click on the "Open" button.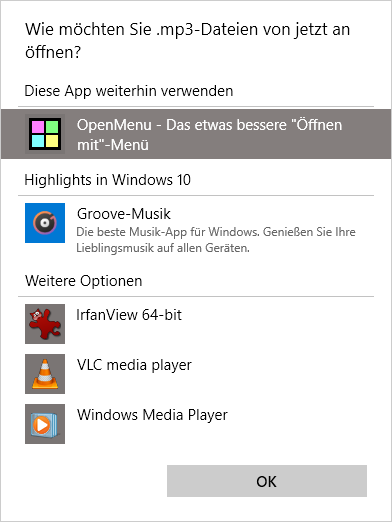 Mit "OK" schließen.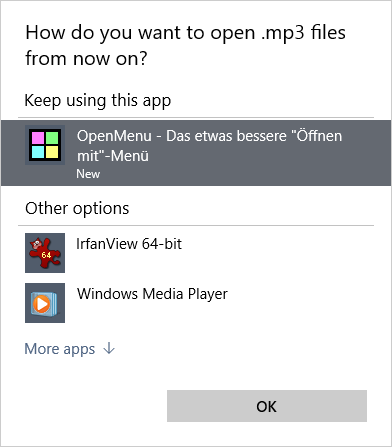 Close with "OK".

Doppelklickt man nun auf eine Datei dieses Typs (also in diesem Beispiel auf eine MP3-Datei), dann öffnet sich das Programmfenster, das beim ersten Mal noch leer ist. Um Anwendungen hinzuzufügen, die dem Dateityp zugeordnet werden sollen, macht man einen Rechtsklick in das Fenster und wählt aus dem Kontextmenü "Hinzufügen":
If you now double-click on a file of this type (i.e. in this example on an MP3 file), the program window opens, which is empty the first time. To add applications to be assigned to the file type, right-click in the window and select "Add" from the context menu: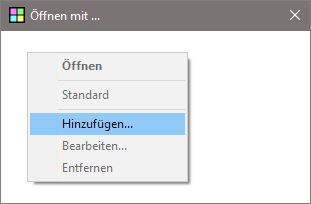 Hinzufügen einer Anwendung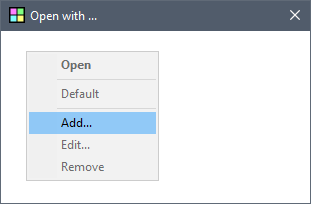 Adding an application

Nach Auswahl einer passenden Anwendung (z.B. C:\Program Files (x86)\Win­amp\win­amp.exe) erscheint das entsprechende Programm-Icon in dem Auswahlfenster. Sollte der angezeigte Anwendungsname nicht schön genug sein, kann er über den Kontextmenü-Eintrag "Bearbeiten" geändert werden:

After selecting a suitable application (e.g. C:\Program Files (x86)\Win­amp\win­amp.exe) the corresponding program icon appears in the selection window. If the displayed application name is not nice enough, it can be changed via the context menu item "Edit":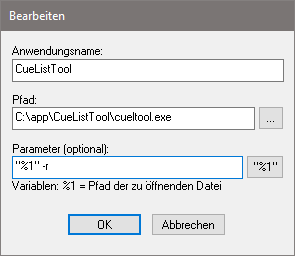 Das "Bearbeiten"-Fenster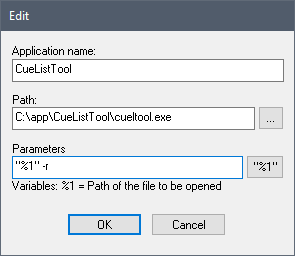 The "Edit" window

Falls der Anwendung zusätzliche Kommandozeilenparameter mitgegeben werden sollen, können diese im Feld "Parameter" angegeben werden. In diesem Fall muss auch die Variable "%1" mit angegeben werden. Diese wird dann durch den Pfad zur Datei, die geöffnet werden soll, ersetzt. In obigem Beispiel wird der Anwendung "CueListTool" der zusätzliche Kommandozeilenparameter -r mitgegeben.

If additional command line parameters are to be passed to the application, they can be specified in the "Parameters" field. In this case, the variable "%1" must also be specified, which is then replaced by the path to the file to be opened. In the example above, the additional command line parameter -r is passed to the application "CueListTool".
Es können beliebig viele Anwendungen hinzugefügt werden. Über den Kontextmenü-Eintrag "Entfernen" kann eine Anwendung auch wieder entfernt werden. Soll eine Anwendung beim Öffnen des Menüfensters schon vorausgewählt sein, dann kann diese über den Kontextmenü-Eintrag "Standard" als Standard-Anwendung festgelegt werden.
Any number of applications can be added. An application can also be removed via the context menu item "Remove". If an application is to be preselected when the menu window is opened, it can be set as the default application via the "Default" context menu item.
Ab jetzt erscheint bei jedem Doppelklick auf eine MP3-Datei ein Fenster mit den Programm-Icons der zugeordneten Anwendungen, mit denen diese Datei geöffnet werden kann:
From now on, every time you double-click on an MP3 file, a window appears with the program icons of the assigned applications with which this file can be opened: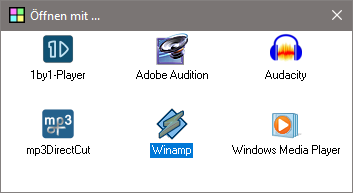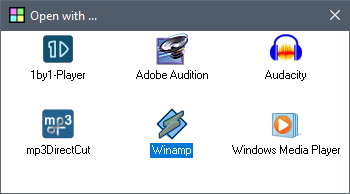 Durch Klick auf eins der Programm-Icons wird die MP3-Datei mit der entsprechenden Anwendung geöffnet. Das Ganze lässt sich auch rein per Tastatur bedienen, also Pfeiltasten zum Auswählen der Anwendung und Enter zum Öffnen. Mit der Esc-Taste wird das Fenster geschlossen.

By clicking on one of the program icons, the MP3 file is opened with the corresponding application. This can also be done by keyboard only, i.e. using the arrow keys to select the application and pressing Enter to open it. The Esc key closes the window.
Das Programmfenster kann beliebig auf dem Bildschirm positioniert oder in der Größe geändert werden. Fensterposition und -größe merkt sich das Programm für jeden Dateityp individuell.
The program window can be positioned anywhere on the screen or resized. The program remembers the window position and size for each file type individually.
Updates
Version 2021.7.27.1 (27.07.2021)
Bearbeiten-Dialog: Zusätzliches optionales Feld für Kommandozeilenparameter.
Edit dialog: Additional optional field for command line parameters.
Version 2021.7.6.1 (06.07.2021)
Benutzeroberfläche zweisprachig (Deutsch/Englisch).
Anwendungs-Icons werden jetzt mit korrekter Transparenz angezeigt.
Bilingual user interface (German/English).
Application icons are now displayed with correct transparency.
Version 2021.7.2.1 (02.07.2021)
Fensterposition und -größe werden jetzt für jeden Dateityp individuell gespeichert und nicht mehr global.
Beim Bearbeiten einer zugeordneten Anwendung kann nun auch der Progammpfad geändert werden.
Neues Programm-Icon.
Window position and size are now remembered individually for each file type and no longer globally.
When editing an assigned application, the program path can now also be changed.
New application icon.
Version 2014.2.9.1 (09.02.2014)

Homepage > OpenMenu